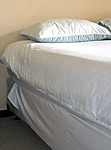 Zatímco u rámu je možné se docela dobře řídit vzhledem a cenou, u matrací by se kupující měl soustředit jen na jejich parametry. Je to vaše zdraví a pohodlí, proto se v obchodě nebojte klidně vyzkoušet. Mnoho lidí se stydí, vyzkouší pouze rukou její tvrdost, ale to je pro vyzkoušení její kvality skutečně nedostatečné a můžete si domů dovézt něco zcela jiného, než jste očekávali. 
Nestyďte se, prodejci jsou na to zvyklí a připravení – na matraci si můžete lehnout (plastové chrániče ochrání lůžko před případným znečištěním od obuvi) a vyzkoušet tak její vlastnosti (každý má pro svá záda jiné požadavky).
Dnes nejpopulárnějším materiálem matrací je polyuretanová pěna (pružná, elastická a prodyšná), následují latex (optimálně měkké a tvarově stálé; latexové jádro je různě děrované a podle toho vznikají zóny s větší nebo menší tuhostí) a matrace pružinové – ty konkurují spíše svou nízkou cenou a vysokou životností, ale také dobře odvádějí vlhkost, jako jediné je možné je ukládat na pevnou desku a jejich speciální typ – matrace taštičkové, jsou často upřednostňovány pro svou tvrdost. Obecně se lehčí váhové kategorie mohou spokojit s měkčím materiálem, pro těžší zákazníky jsou lepší ty tvrdší.
Pokud jste si vybrali běžnou matraci, ta v podstatě jediným požadavkem na její umístění je výška – lehací plocha by pro pohodlí uživatele měla být ve výšce cca 50 cm nad zemí. Máte-li zálusk na matrace zónové, kde pro správné uložení těla jsou umístěny měkčí zóny (v oblastech nejvíce namáhaných), tak si dejte pozor na její správné otočení, pokud není univerzální (osově symetrická).
Velkou výhodou u moderních matrací je vyřešení snímatelnosti potahů tak, aby mohli být sejmuty nadvakrát (z každé strany zvlášť). Trpíte-li alergiemi nebo astmatem, je možné zakoupit potahy z materiálů působících proti roztočům nebo např. snižující pocení. Matrace totiž funguje tak trochu jako filtr – za noc v ní uvízne půl až jeden a půl litru potu, proto by se měla po sedmi až deseti letech používání vyměnit.
Hodně potící se jedinci si mohou pořídit právě matracový chránič z dutého vlákna, které matraci částečně chrání a částečně pocení omezuje (vkládá se mezi prostěradlo a matraci – kromě prvoplánového efektu proti pocení je také příjemný při ležení) – kromě dutého vlákna bývají i z ovčí vlny (v žádném případě však z bavlny, která je pro bakterie velmi příjemným materiálem).
Kontrola kvality
Bodová elasticita – matrace by se měla prohýbat jen v místě, kde se na ni zatlačí
Při ležení se musí přizpůsobit tělu a nic nesmí tlačit
Páteř musí zůstat v rovině (nejlíp poznáte při ležení na boku) – bederní oblast by se neměla příliš propadat (matrace by byla příliš měkká)
Čím více speciálních zón s různou tvrdostí, tím lépe
Materiál
Pružinové matrace sice nejsou v trendu, ale taštičkový systém oddělení pružin je udělal mnohem lépe použivatelnými, ovšem i tak se nevyrovnají latexu – ten je pro matrace skvělým materiálem, ale problémem je jeho špatná prodyšnost, takže pokud se více potíte, rozhodně nedoporučujeme.
Vodní matrace jsou vcelku pohodlné, ale ne každý si na ně zvykne – pro někoho se mohou stát rájem na zemi, jiný bude spát raději na tvrdé zemi. Alternativou k vodní matraci je viscoelastická pěna, která je také velmi přizpůsobivá, ale odstraňuje většinu nepříjemných pocitů ze spaní na vodní matraci.
Speciální materiály pro matrace
Tempur
Tempur je polyuretanová pěna o vysoké hustotě. Byla vyvinuta pro potřeby kosmického programu NASA, protože jeho skvělou vlastností je prodyšnost – nikdy se příliš nezahřívá a tělo se nepotí. Při spánku se také vhodně tvaruje a funguje jako skvělá opora těla.
Bulltex
Novým materiálem na trhu je Bulltex – je velmi podobný latexu, ale zároveň je mnohem více prodyšný. Těm zákazníkům, kteří z jakéhokoli důvodu nemají v lásce tyto umělé materiály, může prodejce nabídnout speciální materiál vyvinutý z oleje bodláku.
Bodláková matrace
Pro milovníky přírody, kterým by mohlo vadit, že leží na něčem vyrobeném z ropy byla vyvinuta speciální hmota z oleje bodláku vlastnostmi podobná latexu.
Vodní matrace
Vodní matrace jsou velmi příjemné, ale špatně se na nich mění poloha a ne každému musí vyhovovat. Místo toho jsou doporučovány spíše líné pěny (zvlášť Tempur).
Futonová matrace
Tato japonská tradiční postel je velmi tvrdá a ručně vyráběná z přírodních materiálů. Přes všechny vymoženosti, které poskytují moderní materiály, futonové postele jsou stále populární a velmi příznivé spánku i lidskému organismu. Futony jsou vyráběny ze zkadeřených bavlněných vláken, případně směsí s nimi – výborně jimi proudí vzduch a skvěle absorbují vlhkost.
Mnozí uživatelé popisují futon jako materiál, na kterém je velmi těžké neusnout. Futonové postele jsou často dodávány s nastavitelným rámem, takže z postele se rychle může stát pohovka. U nás není tento typ matrací příliš rozšířen, ale získává si stále větší popularitu.
Nejvyšší cena neznamená nejvyšší kvalitu
Zákazníci si často vyberou postel podle vzhledu a kvůli dostatečně vysoké ceně předpokládají, že dostávají i rošt a matraci v nejvyšší. Opak je ale pravdou kvalitě (zvláště je to poznat u postelí italského původu) – prodejci se prostě snaží prodat. Sice upozorňují klienty na možnost připlatit si za lepší kvalitu, ovšem na to oni už jako neslyší (přece už tak platí desítky tisíc, tak vyšší kvalita není potřeba). Odborníci ale rozhodně doporučují raději horší rám, ale matrace špičkové kvality.
Jak poznat kvalitní matrace?
Když si na matraci lehnete, sledujte jak velká oblast se prohne. Čím větší oblast a čím více se prohne, tím nižší kvalita, protože matrace nedokáže správně držet tvar vašeho těla.
Vlastnosti správné matrace
Matrace příliš měkká
Poloha na boku: páteř se vám nepřirozeně ohýbá a není rovná, protože se propadáte
Poloha na znak: páteř nemá správný rovnoměrný tvar do S
Matrace příliš tvrdá
Poloha na boku: matrace podepírá vaše tělo pouze v několik bodech, na tyto body je činěn příliš velký tlak, což zhoršuje proudění krve; páteř není podepřena, takže se ohýbá směrem dolů
Poloha na znak: při dobrém zádovém svalstvu páteř udržuje sice tvar S, ale také možné otlačeniny
Matrace s vhodnou tvrdostí
Jestliže nevíte, která matrace by vám vyhovovala, kupte zdravotní matraci – jsou sice o něco dražší, ale většinou neprohloupíte.
Poloha na boku: páteř je odlehčena a držena v přímce
Poloha na znak: páteř je podepřena a je jí umožněno držet tvar do S
Rady k matracím na závěr
Před koupí si matraci skutečně vyzkoušejte – zatlačit na ni a zjistit její pevnost nic neřeší
Levnější výrobky se brzy proleží – lepší materiály začínají od 5 tisíc
Pořiďte si matraci s potahem – ten můžete vyprat a do matrace nebude pronikat tolik potu, tudíž nemůže začít zevnitř plesnivět
Jednou za čas matraci otočte – únava materiálu se rozloží a odvětrá se vlhkost