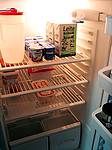 První věc, kterou si musíte rozmyslet před nákupem ledničky a mrazničky je objem. Objem by se měl odvíjet od počtu osob pobývajících v domácnosti – příliš malá lednice na velké množství potravin vás bude mučit každý každičký den, takže raději prostor naddimenzujte, než abyste museli brzy pořizovat jinou (pro ideální fungování by ale prostor měl být vyplněn alespoň ze 70 procent). Obecně platí, že na jednu osobu je v chladničce potřeba 50–70 litrů prostoru, takže lednice se prodávají většinou o objemech 200–260 l. 
Rozdělení prostoru lednička vs. mrazák se zakládá na vašem běžném stylu života – pokud bydlíte na vesnici a máte zahradu, nepodceňte prostor mrazničky, protože budete určitě chtít uchovat nějakou tu zeleninu na zimu, navíc všechno ze zahrádky nestihnete sníst. Často jsou mrazničky dodávané v soustavě s lednicemi nedostatečně prostorné, takže musí být dokoupen další mrazící box sám o sobě (např. pultový nebo tzv. side-by-side, který lze postavit vedle lednice).
V případě, že žijete ve městě, obchod máte za rohem, stačí vám chladnička s malým integrovaným mrazákem uvnitř, ale optimálně byste si měli pořídit ledničku dvoudvéřovou, tedy s oddělenou mrazničkou (zvlášť ve větších rodinách ten prostor bezezbytku využijete) – pokud se jedná o konkrétní čísla, tak se můžete pohybovat cca mezi 40–80 litry. Dřívějšími trendy byla mraznička postavená nad ledničkou, ale vzhledem k rozmáhajícím se ergonomickým pravidlům je v případě, že se rozhodnete koupit ledničku a mrazničku v jednom celku, doporučováno mít mrazničku vespod (je to logické, protože ji otevíráte mnohem méně).
Spotřeba energie
Spotřeba energie je standardně značena stupnicí A až G, což znamená, že A+ výrobek je nejúspornější, zatímco G je to nejhorší, co můžete dostat. Příděl těchto tříd je určen dle zákona, ale pravdou je, že technologie šla natolik dopředu, že se velké množství ledniček dnech chlubí třídami A a A+. Na energetických štítcích je kromě identifikace značky, třídy, objemu a hlučnosti lednice, uváděna především spotřeba. Roční spotřeba se pohybuje od 300 do 600 kWh (cca 1000 až 2000 Kč za rok), ale pomocí této hodnoty můžete srovnávat pouze chladničky o stejném objemu. Při jiném objemu je nutné vzít na vědomí denní spotřebu (kWh/24 h) – jelikož je přepočítávána na 100 litrů objemu, můžete tedy chladničky porovnávat.
Jak ušetřit
Okolní teplota by se měla pohybovat okolo 20°C (s každým stupněm navíc vzrůstá spotřeba o 6 procent)
Pro běžný provoz nastavte chladničce teplotu +5°C a mrazáku –18°C (každé dva stupně dolů znamená spotřebu o 15% nahoru)
Nenechávejte ledničku dlouho otevřenou (studený vzduch unikne a teplý se musí znovu ochlazovat)
Pokud máte starší typ mrazničky, která se sama neodmrazuje, pravidelně odmrazujte (námraza v 3 mm vrstvě zvýší spotřebu až o 75 %)
Uspořádání vnitřního prostoru
U levnějších modelů se můžete setkat s tím, že je lednice rozdělena drátěnými policemi, zatímco u dražších modelů jsou obvyklé neprůhledně provedené plasty nebo sklo. Rozhodně by měl být vnitřní prostor nastavitelný podle vašich potřeb – pevně umístěné police vás mohou značně omezovat. Některé typy lednic obsahují také zvláštní zásuvky na kolejničkách, které jsou vhodné např. pro uchovávání zeleniny.
Speciální funkce
Beznámrazová mraznička
S touto funkcí už nikdy nebudete muset odmrazovat, mraznička se o to sama postará.
Inteligentní lednice
V poslední době se vyskytují lednice s vnitřním počítačem schopným monitorovat záruční doby potravin. Dražší modely ledniček dokáží dokonce při přerušení dodávky proudu zůstat po nějakou dobu aktivní díky záložnímu akumulátoru, takže vám mohou zavolat na mobil a sdělit vám tuto nemilou skutečnost. V případě potřeby je možné je připojit k internetu a ovládat je přes něj.
Šestý smysl
Senzor v lednici rozpozná, kdy je třeba zlepšit chlazení. Třeba když vložíte teplé potraviny nebo byly dveře déle otevřené, lednička začne více chladit.
BioFresh zóna
V některých chladničkách se může vyskytovat prostor, kde je permanentně udržována teplota na 0°C  – ovoce, zelenina i maso v BioFresh zóně vydrží čerstvé až třikrát déle.
Super Cool
Krátkodobé snížení teploty o cca 2°C, aby se vložené potraviny rychleji ochladily.
Vzhled ledničky
Ledničky se samozřejmě nejčastěji vyrábějí v bílé barvě, ale stále populárnější je nerez (nebo šedý nástřik). Dají se koupit i retro chladničky s oblými chromovými madly a barvami, které evokují 50. léta minulého století. Stále více ledniček je vybaveno displayem s informacemi o obsahu a stavu potravin. V případě, že je přerušena dodávka
Uspořádání potravin v ledničce
Kvůli fyzikálním zákonitostem vzduch v chladničce jednoduše cirkulujte, což znamená, že v jejích různých částech je rozdílná teplota. Dole a u zadní stěny je obvykle teplota nejnižší, takže se doporučuje tam skladovat veškeré masné výrobky (včetně ryb) a všechno co máte teprve rozpracované (těsto nebo zelenina na salát). Nahoru a do dveří ledničky (místa s nejvyšší teplotou) můžete umístit sýry, konzervy, máslo či vejce. Část dveří bývá přímo přizpůsobena pro lahve s pitím a prostředek lednice se nejlépe hodí pro pečivo a mléčné výrobky. Důležité je, aby vzduch mohl v ledničce dostatečně proudit, i když aromatické potraviny raději nejdříve zabalte do sáčku nebo uzavřete do nějaké nádoby.
XXL macek
Patříte-li mezi gurmány a máte tedy větší potřeby vzhledem k množství skladovaného jídla, možná oceníte zvětšující se nabídku "amerických" lednic (někdy nazývané XXL), které se šířkou 90 cm, objemem 400 litrů pro ledničku a 200 pro mrazničku všem ostatním lednicím jednoznačně kralují. Dokonce obsahují i výrobník ledových kostek, který je vždy připraven k použití.
Cena
Ceny lednic se pohybují od 5 000 Kč do 90 000 Kč – pokud chcete sehnat chladničku vhodnou pro středně velkou domácnost, měli byste se soustředit na cenové relace o 9 000 Kč výše (nerez modely ale neseženete pod 16 tisíc). Chcete-li ledničkou pomalu nahradit spíž, XXL lednice se dají pořídit už za 45 000 Kč.