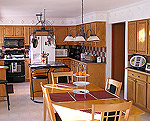 Kromě toho, že se ve větších kuchyních spojených s jídelním prostorem schází rodina, suplují dnes kuchyně také úlohu dřívějších salonů a salonků – návštěvu nezvete vždy do obývacího pokoje, ten správný kout v kuchyni je v tomto směru o něco formálnější.
Možná si to neuvědomujeme, ale to je velký krok v designu bydlení – dříve byla kuchyň i všechny podobné prostory striktně oddělovány od honosnějších částí domácnosti.
Na západ od naší republiky tomuto stylu postupně také přicházejí na chuť, ale nejrozšířenější je v zemích bývalého východního bloku, protože s pokusem o zavedení tzv. minimálních bytů nebylo dost dobře možné udržovat jinou reprezentativní místnost, a tak tuto úlohu začaly obstarávat kuchyně a jídelny.
Před koupí bytu nebo stavbou domu si tedy dobře rozmyslete také, jak budete kterou část využívat – zda veškerý společenský život omezíte na obývací pokoj nebo budete využívat i možností kuchyně. Určitou možností je také obývací pokoj s kuchyní propojit.