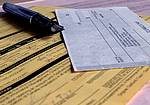 Ačkoliv se často tvrdí, že je lepší vyhořet, než se stěhovat, není to pravda. Stěhování a následné úřadování není nic náročného, co by se nedalo zvládnout v několika dnech volna. Hlavní je na nic nezapomenout. 
Obecní úřad
Začněte na obecním úřadě v místě nového bydliště, tam se stačí nahlásit, vyplnit žlutý formulář o velikosti A5. Pokud se hlásíte na adresu do nájmu, potřebujete souhlas vlastníka, jinak musíte prokázat vlastnictví (smlouva o převodu do osobního vlastnictví).
Za vyplněný formulář přijdete u občanského průkazu o růžek a na oplátku dostanete doklad – Potvrzení o změně místa trvalého pobytu. Spolu s občankou stačí k prokázání nového bydliště – můžete jej použít všude, kde normální občanku kromě opětovné změny trvalého bydliště nebo cesty do zahraničí. Také do 10 dnů musíte požádat o nový občanský průkaz, pokud to jde, učiňte tak rovnou (fotku s sebou).
Všeobecná zdravotní pojišťovna
Změnu trvalého bydliště je potřeba nahlásit i zdravotní pojišťovně. Stačí tam zajít s dvojící Potvrzení o změně + Odstřižená občanka, nahlásit změnu a vyplnit jeden formulář.
Katastrální úřad
Pokud vlastníte nějakou nemovitost, je potřeba nahlásit změnu trvalého bydliště i tady. K nahlášení stačí vyplnit formulář, vystát frontu na podatelnu a představovat si, jak pod vaším číslem jednacím pomalinku postupuje změna bydliště. Odezvy katastrálního úřadu je velmi pomalá, se změnou počítejte nejdřív do 3 měsíců a v Praze do 6.
Řidičák
Na řidičském průkazu je uvedeno místo vydání. Platnost dokladu změnou bydliště pravděpodobně neutrpí, ale pokud si budete na dopravním inspektorátu něco vyřizovat, nechte si vystavit i nový řidičák.
Dopravní inspektorát
Pokud vlastníte auto, je potřeba navštívit i dopravní inspektorát a nahlásit změnu trvalého bydliště i tam. Případně je třeba i změna v registru vozidel. Změnu udělejte rovnou i u řidičáku.
Telefon, elektřina, internet, …
Při stěhování nezapomeňte odhlásit všechny služby, které nebudete s místem bývalého bydliště používat. Pokud budete služby přesouvat, zkuste nahlásit přesun, případně nahlaště aspoň změnu trvalého bydliště.
Podnikatelé a živnostníci
Jako živnostník nebo podnikatel se musíte nahlásit ještě na další úřady:
Živnostenský úřad
Finanční úřad
Správa sociálního zabezpečení
Po úspěšném stěhování můžete zařizovat